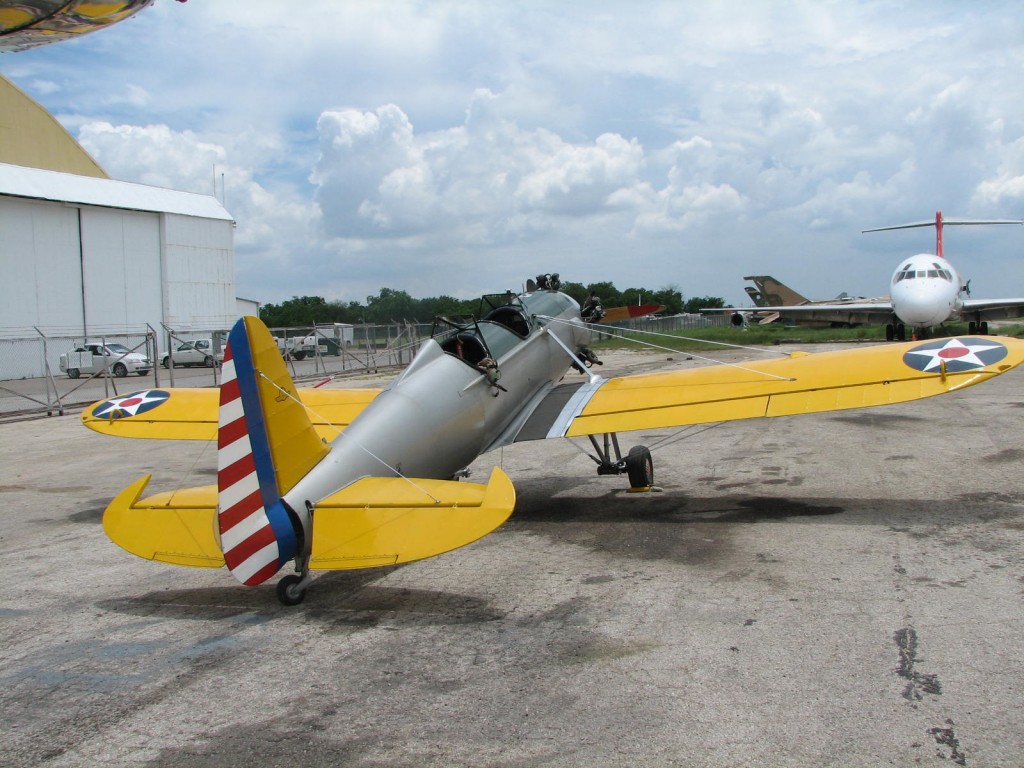 The Ryan Recruit was the U.S. Army Air Corps' first monoplane primary trainer. Initial testing of a single Ryan S-T-A (Sport-Trainer-A) resulted in an order for 15 more aircraft, re-designated the YPT-16, for evaluation in 1939.
Finding this tandem two-seater to be an excellent design, the United States Army Air Corps (USAAC) ordered a production batch of 30 aircraft, designated the PT-20. In 1941, the Army decided a new more powerful engine was needed to endure the rigors of training new pilots. Ryan Aeronautical replaced the 125 H.P. Menasco C4 engine with a 160 H.P. Kinner R-540-1 radial engine. The resulting PT-21 was so superior that many PT-16s and PT-20s were upgraded with the new engine, becoming PT-16As and PT-20As.
The Kinner engine's unusual 5 cylinder configuration and relatively low operating RPM resulted in a distinctive engine sound – even when running at maximum power. To many cadets, this sound was similar to mom's new gasoline powered Maytag washing machine, back on the farm. Thus, the Recruit became affectionately known as the "Maytag Messerschmitt".
With flight training programs expanding across the United States, 1,023 more planes were ordered. These had the improved Kinner radial, no wheel spats, and the deletion of the main landing gear fairings. This became the PT-22. The Navy also ordered the Recruits and re-designated them as NR-1s, and the Netherlands ordered 25 Recruits and called them NR-3s. The Navy used these trainers until 1944, and the USAAC would retire the Recruit at the end of World War Two.
Today there are flying examples of each variant to be found across North America, the UK and Australia.
The PT-22 before you, Construction Number 1683, was manufactured by Ryan Aeronautical Company in San Diego, California on January 7, 1942 and accepted by the U.S. Army Air Corps on January 30, 1942 at a cost of $9,098.00 ($128,651.00 in 2011 dollars).
Operational history of this aircraft:
Feb 8, 1942: 5th Army Air Force Flying Training Detachment, Ryan Field, Hemet, CA
Feb 9, 1944: Sent to Pacific Aeromotive Corporation, Burbank, CA for overhaul
April 20, 1944: Aircraft returned to 5th Army Air Force Flying Training Detachment
June 30, 1944: Sent to San Bernardino Air Service Center, CA for storage

Aircraft Total Time: 2,168:20 hours

Sept 12, 1944: Removed from storage
Oct 3, 1944: Transferred to Reconstruction Finance Corporation,

Flown to Echeverria Field, Wickenburg, AZ.
Total military time approximately 2,177:45 hours

Feb 7, 1945: Aircraft purchased from RFC by Hancock College of Aeronautics
1945 – 2002 15 civilian owners
Dec 23, 2002 Purchased by current owner, Bob Roth of Fort Worth, Texas

Total airframe time today: 3,069:5I hours
Specifications (PT-22):
Engine: One 160-hp Kinner R-540-1 five-cylinder radial engine
Weight: Empty 1,313 lbs.,
Max Takeoff 1,860 lbs.
Wing Span: 30 ft. 1 in.
Length: 22 ft. 5 in.
Height: 6 ft. 10 in
Performance:
Maximum Speed: 131 mph
Ceiling: 15,000 ft.
Range: 352 miles
Number Built: 1025
Number Still Airworthy: 50+